The Human Rights Working Group met on 30th October 2014 at the Ministry of Justice. At the first meeting during the new Government's term members discussed their future tasks for the governmental cycle 2014-2018.
In his opening speech Róbert Répássy, Chairman of the Working Group, first outlined the changes in both the Human Rights Working Group , and the Human Rights Rountable and then presented the Working Group's Vice-President, Barna Berke Dr., State Secretary for European and International Cooperation. The participants of the meeting adopted the Working Group's new rules of procedure, and elected the chairmen of the Thematic Working Groups. Finally the concept of the Handbook on Human Rights was also presented.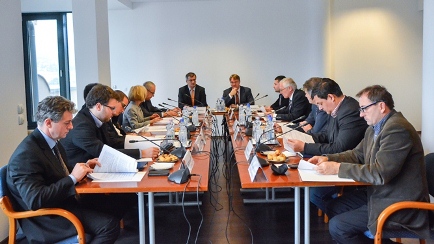 photo:Endre Véssey
The report of the meeting is available at this website in Hungarian.